photo credit / express.co.uk
Driving could mean a whole lot to you depending on how ever you choose to see it be it for fun, for necessity or better still on the business flip of it driving should be done in the the most conducive way possible, do you fall in the category who drive for long distance, short trips or just as a form of recreational activity then maybe this article is just right for you.
How do you feel when driving with your shoes on, for the ladies how about to drive with the stilettos or possibly with something a bit uncomfortable, there are instances where we have had to take off our shoes just for us to be able to give some trust to that throttle pedal for optimal performance.
There are certain shoes that are quite suitable to drive in, shoes that makes it a lot comfortable while behind the wheels and eliminates the possibility of having to drive barefooted, lets take a close look at these shoes that are exactly rooted for the act of driving.
1.
All Star Unisex Shoes
photocredit/ quiteuseful.co.uk
First on our list is the All star unisex shoes, this is one foot ware that is highly recommended for drive in giving its design and composition. the All Star foot wear is made from a cotton like material in addition to its relatively thin and flat sole making it possible for more control on the car.
2.
Flat Sole Loafers Shoes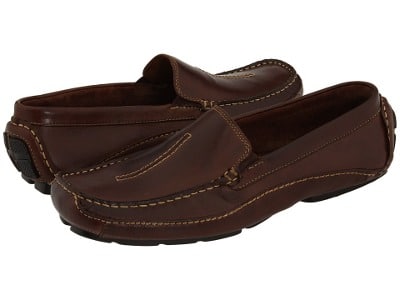 photocredit /artofmanliness.com
Another good addition to this list is the good old loafers knock about shoes for the men driving could sometimes be hassles with our regular
oxford Balmoral
usually with a bit of a thick sole, the loafers affords you with some sort of comfort and interaction with the vehicle easing off that regular stress accustomed to long hours of driving.
3. Top Slider
photocredit/ artofmanliness.com
The top slider is one ideal shoe suitable for driving weather for long or short distance whichever the case may be, easily comfortable without socks the top slider which is originally worn in areas that are prone to slippage could also be an ideal favourite for driving offering ideal dimensions that ensures you have the right contact with your vehicle controls.
4.
Flat sole Sandals
Flat sole Sandals are always an ideal fit at anytime and practically any scenario and driving isn't an exception as well, sandals are a very good option when it comes to foot wears for driving, it offers a lot of leg comfort and ample flexibility that ensures you do not grip in any way.
Disadvantage Of Driving With The Wrong Shoes
Driving with the wrong sets of shoes has got its own implications asides from loosing regular discomfort associated with it there are a few mechanical hazards associated with it as well, driving with the wrong kind of shoes take for instance Mens booths on this case can sometimes cause your brake pads to wear out a lot faster, other noted anomalies may include increased fuel consumptions lack of vehicular control and perhaps general safety issues.
photocredit/heelshield.com
What ever the case may be to drive is an act that requires a whole lot of concentration and mental alertness and as such driving with the right kind of shoes can certainly improve overall performance and safety on the roads.